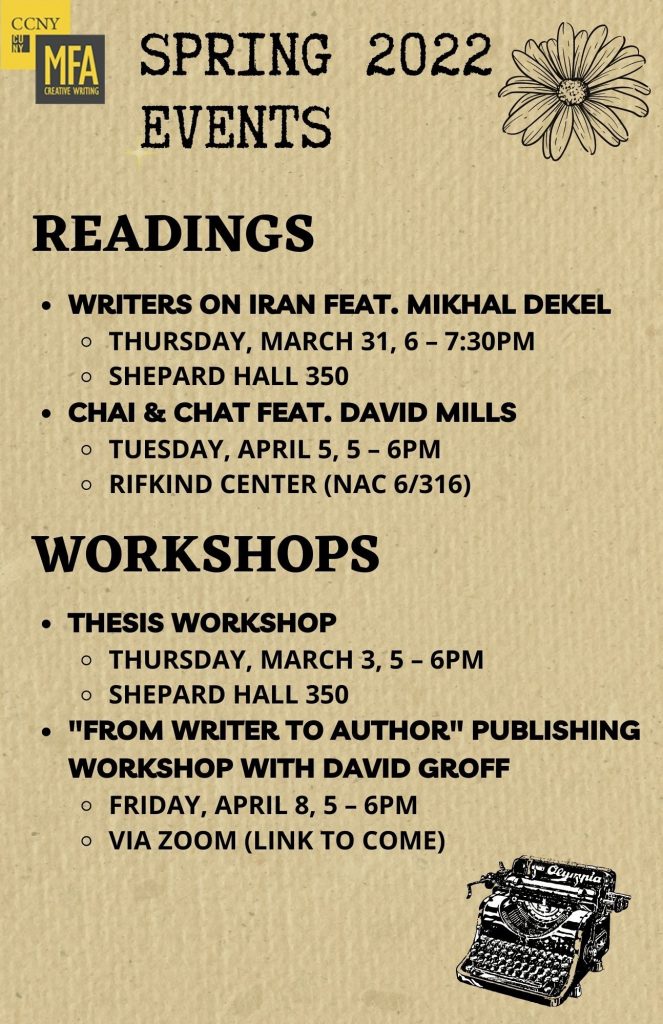 Join us this semester for conversation with the award-winning author Mikhal Dekel, and poet David Mills, along with workshops on how to successfully complete your MFA thesis, and sage wisdom from David Groff on how to transition from writer to author.
WRITERS ON IRAN FEAT. MIKHAL DEKEL
Join Mikhal Dekel, Salar Abdoh and the CCNY MFA program to discuss Tehran Children, a historical memoir that the New York Times Book Review hailed as "Not simply another detail of the Holocaust but a matter of enduring existential, psychological and moral reflection."
MIKHAL DEKEL is a Distinguished Professor of English and the 2021-22 Stuart Z. Katz Professor of Humanities at City College of New York and the CUNY Graduate Center. For this book, she was named a finalist for the 2020 Sami Rohr Prize for Jewish Literature, the National Jewish Book Award for Writing Based on Archival Material, and the Chautauqua Prize for Contribution to the Literary Arts.
Spotlight is a new series from the CCNY MFA in Creative Writing engaging authors, thought leaders and the public in the most pressing conversations of our time, through the lens of literature and the arts.
CHAI & CHAT WITH DAVID MILLS
Michelle Valladares is excited to host a reading and discussion with acclaimed poet David Mills.
Mr. Mills holds an MFA from Warren Wilson College and an MA from New York University—both in creative writing—as well as a B.A. (cum laude) from Yale University. He's published four poetry collections: Boneyarn, The Sudden Country, The Dream Detective, and After Mistic. His poems have appeared in Ploughshares, Colorado Review, Crab Orchard Review, Jubilat, Callaloo, Obsidian, Brooklyn Rail, Diode Journal and Fence. He has received fellowships from the New York Foundation for the Arts, Breadloaf, The American Antiquarian Society, the Lannan Foundation, Arts Link and a Henry James and Hughes/Diop fellowship. He lived in Langston Hughes' landmark home for three years. The Juilliard School of Drama commissioned and produced a play by Mr. Mills. He wrote the audio script for MacArthur-Genius-Award Winner Deborah Willis' curated exhibition: Reflections in Black:100 Years of Black Photography, which showed at the Whitney and Getty West Museums. He has also recorded his poetry on ESPN and RCA Records.