The Rifkind Center for the Humanities and Arts presents
ROSS BENJAMIN
ON HIS NEW TRANSLATION OF
The Diaries of Franz Kafka
in conversation with Vaclav Paris
May 8th, 5-7 pm
Rifkind Center, NAC 6/316
This new and scrupulously faithful translation of the Diaries brings us…the true inner life of the twentieth century's most complex and enigmatic literary prophet.

—Cynthia Ozick, author of Antiquities

An essential new translation of the author's complete, uncensored diaries—a revelation of the idiosyncrasies and rough edges of one of the twentieth century's most influential writers.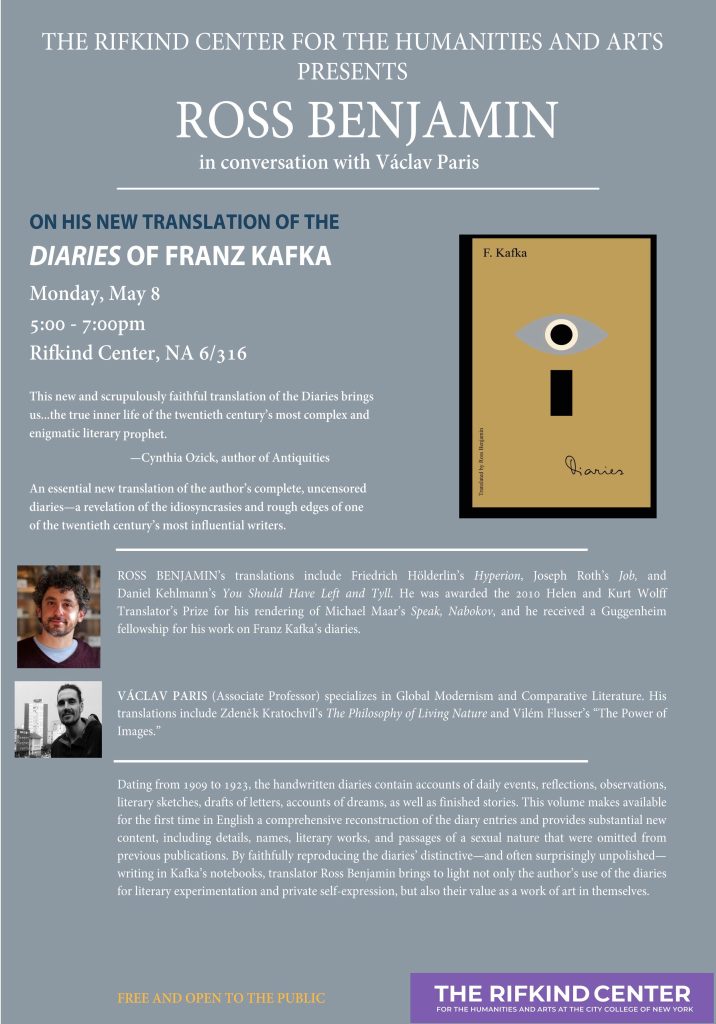 ROSS BENJAMIN's translations include Friedrich Hölderlin's Hyperion, Joseph Roth's Job, and Daniel Kehlmann's You Should Have Left and Tyll. He was awarded the 2010 Helen and Kurt Wolff Translator's Prize for his rendering of Michael Maar's Speak, Nabokov, and he received a Guggenheim fellowship for his work on Franz Kafka's diaries.
VÁCLAV PARIS (Associate Professor) specializes in Global Modernism and Comparative Literature. His translations include Zdeněk Kratochvíl's The Philosophy of Living Nature and Vilém Flusser's The Power of Images.